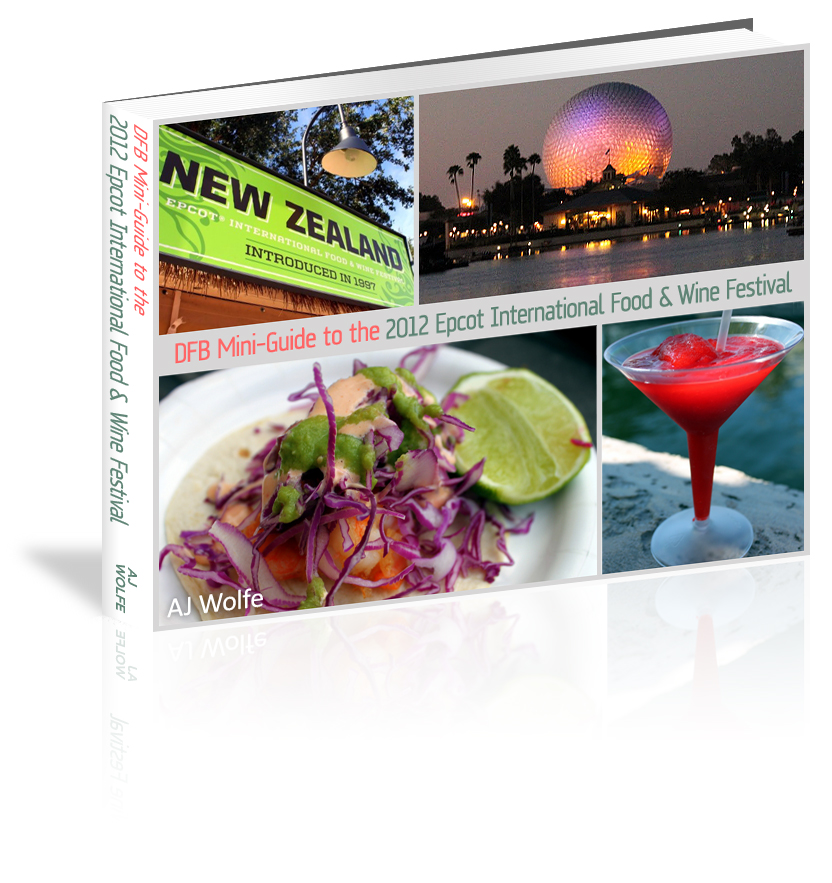 As promised, here's my review of Disney Food Blog Mini-Guide to the 2012 Epcot International Food & Wine Festival e-Book.  I was given this review copy, but let me tell you, if I was going to F&WF this year, I would be all over this book.  To begin with, the title of "mini-guide" is a total misnomer.  This ebook is 160 pages long, which I read on my Kindle.
This guide is awesome.  If you are going to the festival, you can get a listing of every f&wf event each and every day in here (this list is also why the whole ebook format is awesome:  you could have this stored on your iPod touch/iPhone/Kindle/Kindle Fire in your park bag and pull it out anywhere.
There are some really cool new things coming this year.  The Ghirardelli's  From Bean to Bar at the Festival Center*should be cool.  Nom.  Additionally, there will be wine samplings (free!) at certain times.  This would be great for someone like me, who isn't a big wine person, but might want to get a gift for someone who is.  Or who just likes free alcohol.  One new special event which I think would be really cool is the Marketplace VIP Access Chef tour.
You know that I had been looking forward to the Vegan Pavillion, now called Terra.  That said, I am pretty disappointed in it.  It's sponsored by Gardein (the same brand located at the Yardhouse).  I've found that I tend to either love or hate their products, so as they are not cheap, I tend to avoid them.  I can give them a pass on the fake chicken dish, but seriously?  Do we still need to add fake beef to vegetarian chili?  I'm pretty sure the chili at Columbia Harbor house is vegan, and I know it's fake meat free and tasty.  I am; however, hopeful that the smoothie and cake will be a hit.  Speaking of vegetarianism, I was really excited to see a vegetarian Crawl among the many crawls listed.  That said, I would most likely not consider the Yogurt Panna Cotta..pana cotta tends to contain gelatin, as do certain yogurts.
If you're attended the Food and Wine Festival, check out this book!
*Also known as the former Wonders of Life pavillion.